About the Bowls
I consider my work very natural and organic, containing many of the wood's original characteristics. I turn green wood, embracing the effects of drying, which may include distortion and cracking. It is important that each bowl contain elements of the tree it came from, the texture, form, color, and decay. Many of my bowls have natural edges, with the bark still attached. Others are without the bark but still maintain the outside shape of the tree. I am cautious of adding too much detail to a piece, that it may distract from its natural beauty. I enjoy the creative freedom I now have after decades of following blue prints and interpreting the visions of architects and their clients.
Dennis Grage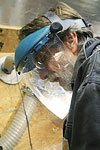 Dennis Grage, owner of Hounds Bay Woodworking, works out of his studio in Underhill, Vermont. Originally from Seattle, Washington, Dennis studied at Central Washington University, where he majored in fine arts with an emphasis in sculpture and ceramics, obtaining a degree in 1970.
After college, he coached alpine skiing and began doing carpentry in off-season. He has over 35 years of experience as a carpenter in Washington and Oregon.
Dennis and his wife, Susan, moved to Vermont in 2005 looking for a more rural life style. The forests around their home provide the material and inspiration for his work featured here. Since 2005, Hounds Bay bowls have been sold in numerous artisan galleries, fairs and farmers markets throughout Vermont.


"I try to reveal the beauty hidden in wood and attempt to employ only those utterly simple shapes of forms that will display this beauty without distracting from it, or without imposing my own conflicting shapes or designs upon the beauty that is already there.  I often say that each bowl already exists in the tree trunk and my job is simply to uncover it and take it out." Ed Moulthrop